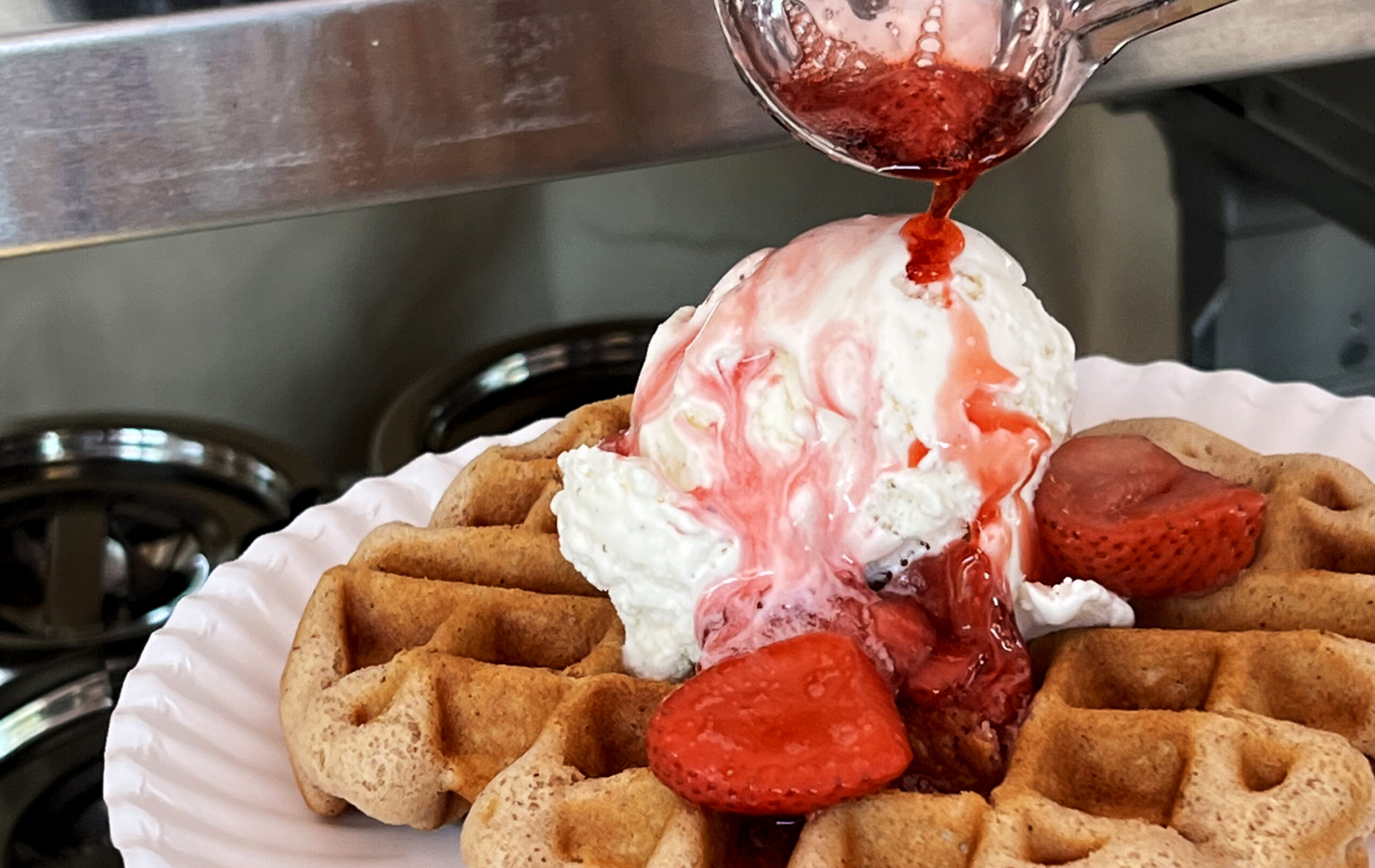 View the original article on SteamboatPilot.com.
Jay Hirschfeld is hoping to introduce a new recipe this weekend at his downtown kiosk. It's not going to be a new flavor for the Yampa Valley Ice Cream Company, but rather a new texture.
"We were looking to expand our product offerings," said Hirschfeld, president of Yampa Valley Ice Cream. "Obviously, our ice cream is a hit in summer, but then in the winter and through mud season, that kind of slows down … so we were exploring that and trying to figure out what gaps kind of existed, and we discovered that grab-and-go waffles seem to fit the bill."
Hirschfeld said he will start offering the waffles, which are topped off with a number of tasty toppings, when the kiosk at 635 Lincoln Ave. opens at 7 a.m. Saturday.
The thick, fluffy Belgian waffles are an inch thick and 9 inches wide. They are made fresh to order and can be served "plain" with maple syrup and powdered sugar.
Yampa Valley Ice Cream also will offer to top them off with a scoop of ice cream and any number of toppings — including mini chocolate chips, rainbow sprinkles, whipped cream, warm chocolate, caramel and peanut butter sauces, along with a range of fruit compotes including strawberry and mixed berries.
The Belgian waffles start at $9 for a single and $15 for a double, with the extras including toppings, sauces and ice cream priced all-in at $13 each. The kiosk will also continue to serve a variety of premium ice cream including rainbow sherbet, chocolate chip cookie dough, coffee, cookies n' cream, mint chocolate chip, rocky road, strawberry and vanilla bean.
"The addition of waffles to our menu is something we've been wanting to do for a while," said Hirschfeld. "We think this new product complements our existing menu well and are excited to offer this delicious breakfast treat to our customers."
This weekend the kiosk will be open from 7 a.m. until 8:30 p.m. Saturday, Sept. 3, Sunday, Sept. 4, and Monday, Sept. 5. The kiosk is normally open seven days a week from 4:30 to 8:30 p.m. Monday-Thursday, and from 7 a.m. until 8:30 p.m. on Saturday and Sundays.
The waffles will be served in addition to Yampa Valley Ice Cream, which has been serving made-to-order ice cream in Steamboat Springs since 2019 and opened its downtown kiosk in the summer of 2021.
"Each waffle is made to order, so it takes about four or five minutes to build them, and we can make up to four waffles at once," Hirschfeld said. "They're pretty filling — if not downright tough to finish — with all the toppings on them and stuff."